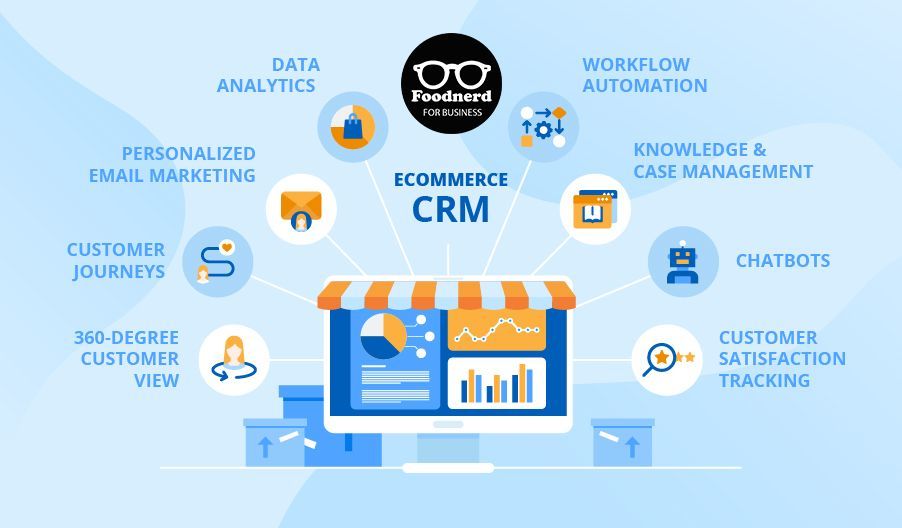 Nubaira Ahmer khan"

2021/10/01

0 Comments

0 Likes
Maintaining ideal relationships with customers is the top priority of businesses, but how to keep a perfect customer relationship?. It is human nature that they always go back to the place where they are admired and honored. If you respect your customers, make them informed, and keep the spark in their interest alive, you'll probably never lose your customers. However, managing a business is a complicated thing. Managers oversee many operations, so it often becomes challenging for the business operator to keep everything perfect. Therefore, for the ease of the manager, many sophisticated software and technologies have emerged such as CRM that shared the burden and reaped productivity. With CRM software, companies can easily focus on improving the quality and reputation of their product and services, and other issues won't divert their attention. If you are thinking about what is CRM and why it is becoming common then continue reading it. We have highlighted all the details regarding CRM benefits, its usage, and the best recommended CRM software.      
What Is CRM? 
CRM is an abbreviation of Customer Relationship Management. It is a highly advanced technology that maintains the relationship between the company and its potential customers and keeps them connected and informed. CRM benefits companies a lot. For instance, if you are a restaurant owner and you have CRM software installed, then you can easily inform your customers make them updated about your latest deals or any new dish your restaurant introduced, you can also offer them many coupons and discount codes on special occasions, Thus, you can always trigger your customers' interest and make them continuously engage with you. Hence, CRM is both a technology and a tool that keep your customers coming back.
Read
How To Drive Consumer Engagement In Your Restaurant?
5 Quick Ways To Improve Customer Services
What Does A CRM System Do?
There are a lot of queries regarding what does  CRM system do? Why the CRM system is so important? How it contributes to managing business operation efficiency? Etc. however, it is believed that the CRM system eases life in many ways because it provides plenty of benefits to users. In order to provide a better service and experience to customers, it is important to know that what your customers exactly want, and how much interaction you have with your customers hence this is what CRM is all about. I.e. knowing your customer preferences, keeping track of them, and making them stay connected with your product and services. It is worth mentioning that running a business without CRM can cost you real money. Similarly, the main purpose of having CRM technology is to maintain strong, productive, and loyal interactions with customers that lead to increase customer acquisition and retention. 
Benefits Of Using CRM
There is a lot of value in using CRM because it assists the manager in addressing many challenges easily. 
CRM keeps track of your customers and maintains a central list of information on your customers and leads that gives you quick details.

It keeps track of where a conversation with any of your customers left off and it makes your customers regularly interacting with your staff. 

CRM benefits the companies because it effectively manages, analyzes, improves customer relationships.

With the help of CRM, managers gather the customer data, analyze the customer preferences and align their products and services according to the demand of the customers and in long term, it deepens the relationship of customers with the products and services and it also improves the qualities of products and services. 

The customer relationship management software help beyond the expectations because it enables the service team to settled the issues faster at the same time it also helps the development team to create better product and services that attract more customers. 
The Best CRM Software 
Using CRM software derives better business results because it automates sales teamwork. One of the best software that has an in-built CRM feature is Foodnerd POS. It is an all-in-one point-of-sale software with the in-built feature of CRM that works seamlessly with no user limit, no storage limit, and no-limit times. The CRM software will provide you competitive advantages and it solves many challenges as it organized the customer's contact, company, and sales opportunity to one platform and provides the marketing and sales team to work collectively towards a single goal i.e. customers.  The CRM software in Foodnerd is an end-to-end solution that includes service cloud, sales cloud, marketing cloud, and commerce cloud. Additionally, it's Artificial intelligence-enabled the customer data and combines all the details of the customer.  
Role Of CRM In Restaurants 
The main purpose of CRM is to gather and analyze all the data related to customers including their likes, dislikes, interaction with the staff and representatives, their purchases, services request, assets, and proposals, and then it lets the user comprehend each touchpoint and streamline the
customer's engagement process
. It establishes a strong relationship between a customer and a brand. For instance, if your restaurant has CRM software it will automatically save the customer data and whenever you introduce any new dish into your menu it will inform your customers by sending them automatically generated texts, emails. Similarly, if your loyal customer has their birthday the CRM software automatically wishes them a happy birthday on the behalf of your restaurants.
Write a Comment
0 Comments