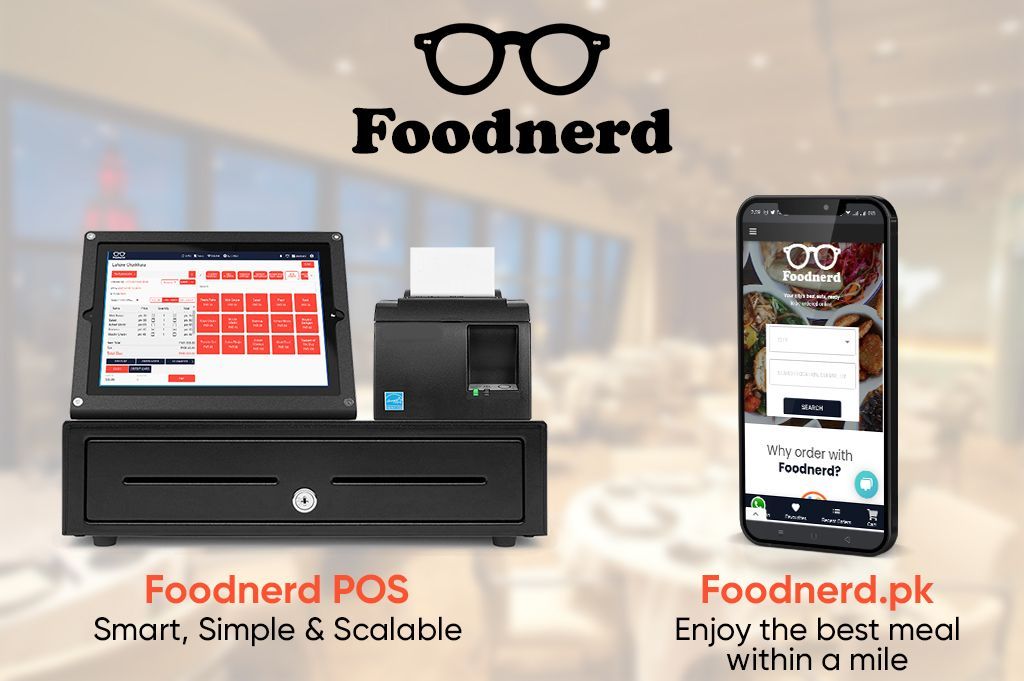 Nubaira Ahmer khan"

2021/10/08

0 Comments

0 Likes
What Is Foodnerd? 
Foodnerd is a creative, intuitive, and elite company that offers an affordable, and robust Point of Sale system for restaurants and cafes with remarkable features and powerful Cloud-based capabilities that will help your business thrive. Foodnerd also provides an Online restaurant management solution with a social platform for foodies to get insights into their favorite location as well as order food online.
History Of Foodnerd
Foodnerd was launched in 2016 by Mr. Hisham Malik with the aim to provide a significant and impactful restaurant point of sale solution for the restaurant business. Since then, Foodnerd has become one of the most trusted points of sale software across the restaurant industry. Today, foodnerd empowers restaurant businesses with its agile digital technology and pushes restaurants to delivers the highest level of performance. 
CEO Introduction 
A tech-savvy with over ten years of progressive experience in multinational companies. He is focused on building solutions for businesses and communities worldwide. He had exposure to many sizable multinational copo[erations  He aims to design a model that turned software into service on the cloud where customers can efficiently operate their business on their own, and it will reduce their extra operational cost. Today he is successfully running his company and providing revolutionary software solutions to SMEs.
Mission 
The mission of foodnerd states that "we believe that innovative ideas deserve to live. Our mission is to increase the restaurant business management exponentially in terms of quality and service while maintaining their online and social presence seamlessly. We are highly committed to providing quality food and better visibility of excellent restaurants to our customers". 
Vision
Foodnerd vision is to provide our clients with smart technology that enables business diversification to a great extent. Our POS is designed with reliable cloud-based technology that brings efficiency and ease and integrates their entire business journey to one platform. We believe that a happy customer is a key to success. That is why we genuinely honor our customers and provide them accessibility to every food outlet, including restaurants and cafes.
Values 
 Foodnerd believes in collectivism its core values include:
To listen to customers closely and strive to keep up with innovative trends.

We are committed to adding tremendous value to your business.

We strive for excellence, and we exceed expectations by providing world-class products and services. 

We continuously look for improvement and never take our employees and customers for granted.  
Businesses We Serve
Foodnerd is a leading restaurant point of sale software developer enterprise offering simplified tableside ordering, delivery, contactless payment, and many other solutions to restaurants and cafes. The office of foodnerd is located in the central areas of Pakistan, including Islamabad and Lahore. Foodnerd is striving to expand its business operations internationally, mainly in the Middle East.  
Our Members 
We are a team of committed engineers, designers, and developers with a degree of professionalism and expertise who enjoy a sophisticated, innovative, and cooperative work environment open to new concepts and spaces. We interact first hand with the technology we work on regularly. The CEO of Foodnerd Mr, Hisham Malik, has 15+ years of experience delivering high-end web, mobile, e-commerce, and social networking products that are successfully running across leading companies. Our overall staff comprises a talented team who provide the best service possible. We have Software Engineers,  Software Testers, HR,  Designers, Business Development Manager, Sales Associates, Digital Media Executives, Product Managers, Office Boys, Staff boys, and a Creative Writer. 
Our Products 
Foodnerd has two different products i.e.
Foodnerd Point Of Sale Solution 

Foodnerd. PK
Foodnerd POS 
Foodnerd POS is the fast, elite, and reliable point of sale software that will lift your restaurant operations effectively. It is loaded with an exciting all-in-one management system that manages complex restaurant operations quickly within a budget and proves to be a great choice to invest in.
Foodnerd POS Features 
Foodnerd point of sale software with a wide array of functionality ranges from data analytics to business intelligence, workflow tools, sales enablement, security, and many more. The details of some of its features are highlighted below:
FBR integration
Foodnerd POS is fully integrated with FBR as it is mandatory for the restaurants to integrate their Point of sales software with FBR. However, Foodnerd POS is automatically integrated with FBR, so restaurant retailers do not have to go the extra mile to buy themselves a license of FBR to use POS.
Contactless Ordering
Foodnerd provides customers an ability to browse, order, and pay using gadgets and avoid unnecessary interactions. It automatically builds digital restaurant menus on the online platforms and gives customers QR code functionality for their contactless dining experience. Foodnerd also offers pickup and delivery services. 
Kitchen Receipt Management 
Manages multiple kitchens and runs online orders efficiently. It eliminates the manual paper tickets to enhance accuracy and improve interaction with customers. 
Offline Build For Windows 
Foodnerd POS is a feature-rich point of software with an offline build for windows that allows the user to continue their business operations without connecting to the internet. 
Supplier Management
Foodnerd leverages supplier management and tracks the stock efficiently. It monitors stock levels across multiple locations, interacts with suppliers, and free up the cash flow that is occasionally tied up in inventory. 
Marketing Promotions
The foodnerd point of sale software can run automated campaigns like email, SMS, and push notifications. It keeps customers informed and makes them come back to you again and again.
CRM
Foodnetrd has automated CRM accounting software that keeps track of the customer, automatically grows your customer's email list, and starts interacting with customers automatically.  
Payment Integrations 
Foodnerd is integrated with many major payment platforms, including EasyPaisa, JazzCash, Stripe, and Credit Cards. It provides customers with ease in payments. 
Table Management
Foodnerd POS provides you an all-in-one table management point of sale solution that brings the whole restaurant operations together from the front to the back of the house. It improves the guest experiences and ensures more upsell opportunities for restaurants.
Inventory Management 
Foodnerd monitor inventory levels and never lose track of your stock. It provides users instant notifications whenever they are running low. With the help of foodnerd cloud-based restaurant POS, the manager can manage inventory and suppliers with just one click. Thus, Foodnerd POS significantly decreases additional labor costs.
Barcode Labeling Printing Functionality 
Foodnerd POS provides intelligent and interactive tools and functionality to register sales and makes operations most accessible. 
2) Foodnerd.pk
Foodnerd.pk is the fast-growing online food ordering portal that provides the customer a virtual food court where they can browse through the vast catalog of foods and choose the best cuisine that suits their mood. 
Customers are just required to download the Fodnerd app on their phone, add items to their cart and choose a suitable payment method. Their food order will be delivered to their doorstep in the shortest span.
Foodnerd.pk Features 
Contactless Delivery 
Foodnerd.pk offers customers great flexibility by providing them with online order, delivery, and pick-up services. It automatically connects customers to famous restaurants and affords them the best deal or menu in their town. 
Accuracy 
Foodnerd.pk improves efficiency and delivers guests precisely what they order. It offers customers the best service, quality products, and a fantastic experience. 
Multiple Payment Options 
Foodnerd provides customers to pay online or through cash on delivery. With foodnerd, you can easily order your food online from hundreds of restaurants. 
Online Food Delivery App
For users' convenience, foodnerd provides an
online app
compatible with Windows iOS and Android. 
Write a Comment
0 Comments