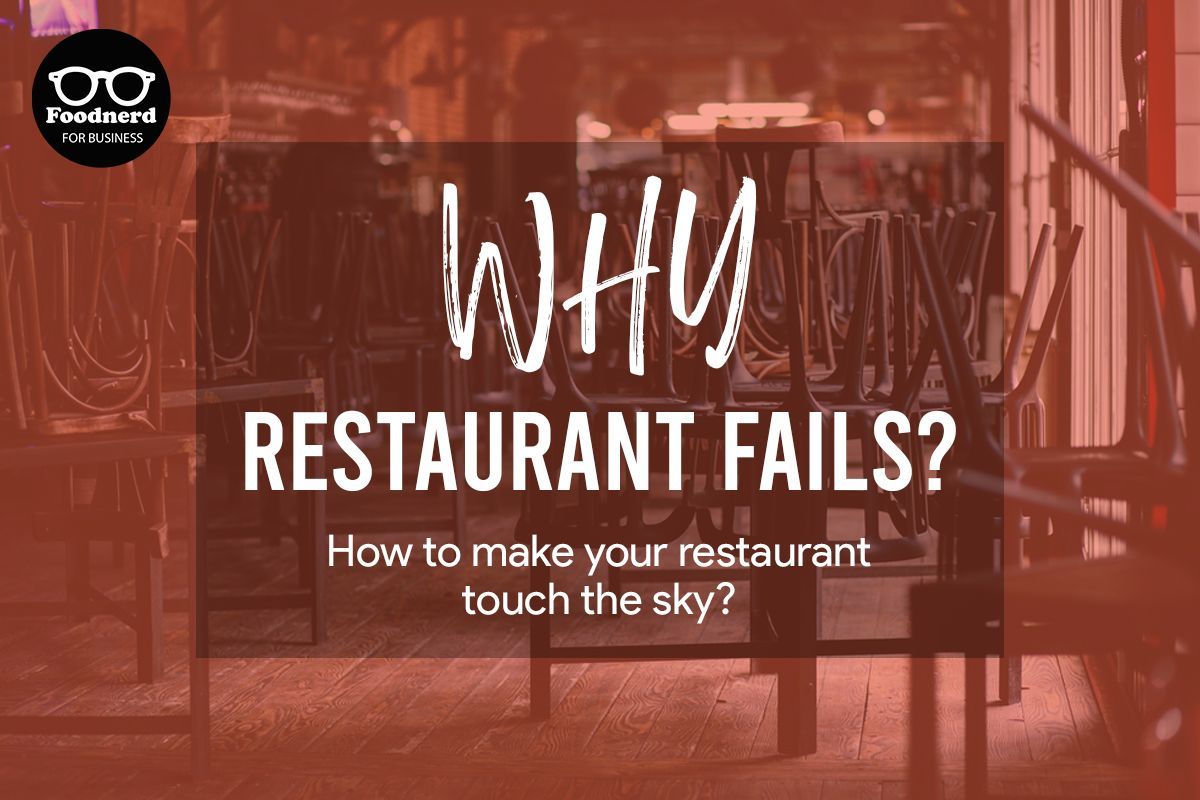 Nubaira Ahmer khan"

2022/03/11

0 Comments

0 Likes
Many recent studies have highlighted that 60% of the restaurants failed to continue their business and end-up closing it with a heavy heart. It is a miserable thing that happens to most restaurant owners that they have to give up their passion because it becomes difficult for them to survive in a competitive environment. Many reasons are associated with the failure of a restaurant business, such as incompetent staff, location, customer disappointment, low startup, lack of capital, and not a proper use of technology. Starting a restaurant business needs a lot of concentration. A perfect five-year business plan must be followed, highly skilled staff, excellent setup, comfortable environment, good service, and best food. In order to understand the main reasons why restaurants fail to survive and what is the number one thing that should be considered before opening restaurants, continue reading it. 
Reasons Restaurants Fail to Survive
Many of us wonder why restaurants have such a high failure rate? And what is the main reason restaurants fail? However, few people address the fact of how to avoid failure in restaurant management. Continuing reading it we have highlighted the reasons restaurants fail to survive and how to avoid them. 
Inadequate Expenses Management
Inadequate expenses management often leads to failure in restaurants. Sometimes the manager spends a lot of money on buying the products that end up wasting. Sometimes the manager hires irrelevant staff for the little work, while sometimes the return on investment is not enough to pay stuff like bills and staff salary. Thus the inadequate management of inventory, employees, and expenses leads to failure in the restaurants.   
No-Check & Balance 
Not having an accurate check and balance also resulted in poor restaurant management and non-serious staff performance. When nothing tracks the staff performance, and employees do not feel accountable for their responsibilities, they start taking their jobs non-seriously. This lack in the system of checks and balances failed restaurants. That is why the number one thing that needs to be considered while running a restaurant is constantly tracking your employees whether they are responsibly working or not. 
Poor Managerial Skills
It takes a very skilled manager to take responsibility and efficiently manage all the operations. Similarly, it never depends on the staff that they will handle everything. In fact, if you leave all functions to your team, your restaurant will not be able to grow, and in the end, you have to shut down all the procedures. Hence, poor managerial skills are the main reason the restaurant fails to survive. Therefore if you want your business to hit the sky, then it is important to maintain your total commitment and involvement in every single operation and do not leave all your processes to your staff.
Read 
How to Manage Inventory Efficiently? Techniques, and Technology
How Software Technologies Are Evolving The Business             
Disorganization 
It is always clear that unorganized things are likely to create low profitability. The same is the case in restaurants when there is a lot of mismanagement in inventory, warehouse, manager behavior, staff attitude that leads to failure in restaurants. Similarly, when a restaurant has a proper inventory management system, it creates significant differences. For instance, there are many inventory management software that tracks the inventory in real-time and gives the manager regular updates regarding the products that are left and need to be restocked in their inventory. Also, when a restaurant has an organized pattern in everything, they have knowledge regarding every single aspect, and they can quickly identify what the most or the most miniature selling product in their restaurant is.
Lack Of Marketing 
The No. 1 thing to consider before opening a restaurant is its marketing and promotions. Unfortunately, the most underrated fact in the restaurant industry that we often skip is marketing. Business owners and entrepreneurs often spend a lot on the infrastructure of their restaurants, but they ignore the marketing of their restaurants that attracts more customers. There is also a misconception that states that restaurant marketing is costly compared to other business marketing. However, it only takes intelligence and some exciting tricks through which you can promote your restaurants. There are many restaurant management software that exists that enable marketing and promotions, and they are not expensive. 
How To Make Your Restaurant Touch The Sky?
Failure in the success of restaurants is widespread, but at the same time, success in the restaurant is not impossible. No doubt, 70% of the restaurants fail to continue their operations, but 30% of the restaurants still manage to survive and compete in this challenging industry. After reviewing the success of many restaurants that continuously managed to stay in the competing environment, it is highlighted that the number one thing that you need to consider before opening the restaurant is how to properly keep an eye on every single activity of the restaurant. For that purpose, the point of sale software exactly matches the business need. It is filled with unique features and functionalities that promote seamless business operations management anywhere, anytime. 
There are many restaurant points of sale software that exist in the market. One of the best and top-rated POS software for a restaurant business is Foodnerd POS. It performs a lot of functionalities ranging from managing complex inventory to staff roles duties, sales, expense, customers, warehouse,  marketing, and promotion. Foodnerd gives you ease in everything. It gives users a bird's eye view of their business and allows them to manage their business efficiently and gain a competitive edge in the restaurant industry.    
Read also, 
How To Deliver Excellent Customer Service At Your Restaurant
5 Quick Ways To Improve Customer Services
Write a Comment
0 Comments