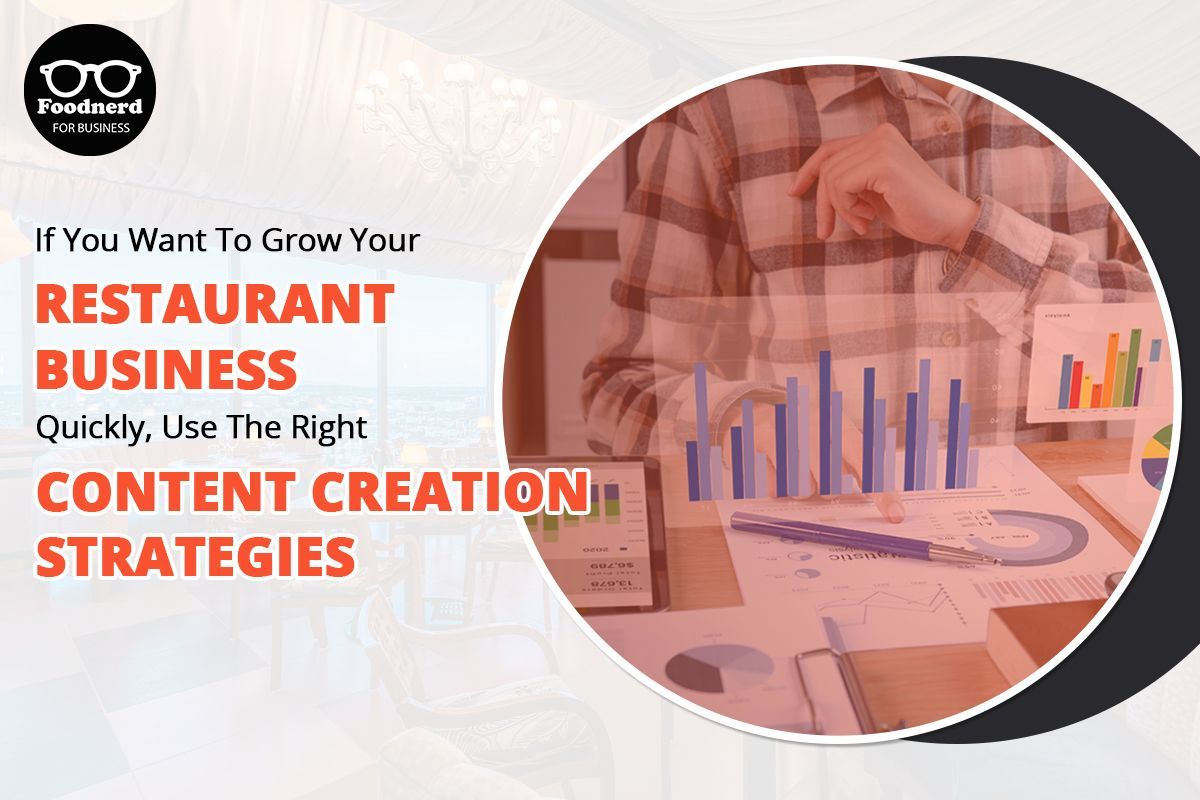 Nubaira Ahmer khan"

2022/12/06

0 Comments

0 Likes
Do you know that 75% of successful business owners nowadays use content creation strategies to attract new customers? Gone are the days when advertisements were displayed on big billboards or used in traditional ways.
In the past, content creation marketing wasn't even necessary, but contemporary trends demand that maintaining an online presence via content is just as crucial to your restaurant's success as its physical presence.
Content ideation is essentially the first seed that sprouts into a plant and eventually develops into a large tree, which bears fruit in the form of money that businesses are able to harvest. Thus, it is the long-term reward for consistent efforts that brings benefits.
We have highlighted how to use content creation for your restaurant business' success. So, if you are unfamiliar with the most popular content creation strategy these days, this is an excellent opportunity to learn from this blog.   
What Is Content Creation?
The content creation or " content marketing," is basically the digital marketing strategy that involves sharing material, including text, images, videos, infographics, etc. in order to promote any business, product, or service. 
There are many mediums for content creation and marketing, such as creating advertisement videos, attractive articles, catchy social media posts, or many other ways. Blogging is another engaging content creation method for content marketing that draws in lots of clients.  
Read
5 Key Trends That Will Rule The Workplace In 2022
What Are The Four Essential Features Your Grocery E-Commerce Website Needs?
How Can A Restaurant Build A Successful Online Presence?
Well, maintaining a compelling online presence is necessary for developing a successful restaurant business, and for that reason, content is ultimately the most important factor.  From ideation to creation, content is the only thing that connects a brand and its products to their prospective audience.
In order to create an online presence, it is significant to create an attractive website with perfect content that shows the authenticity and reliability of business over the internet. For building a successful online presence for your restaurants, you must follow some steps that are highlighted below; They will lead to a successful online presence.
Finding Right Audience 
Before you begin creating content for your website and social media, it is best to clarify your vision and identify your target audience. You can find the audience based on their demographics, age, purchasing behavior, and loyalty. 
For example, if you own a fast food restaurant, Millennials or Gen Z, who range in age from 15 to 30, are the ideal customers. 
Once you have decided who to target, the next step is to list down the right place to attract them, such as specific social media sites including Facebook, Instagram Business, Twitter, Tumblr, Qoura, etc. Additionally, Google Ads are the best tools to reach the right audience.
This tool will greatly assist you in planning out what content you will create, what your writing tone will be, and how you will create the personality of your restaurant in order to maximize its influence over customers. 
Read
How Has Grocery Shopping Behavior Evolved Recently?
How does POS Help You In Managing Your Manufacturing Business?
Carry Out Keyword Search 
Once you are done shortlisting your audience, you have to move further towards identifying relevant keywords for the target audience. There are many tools, like Google Analytics and Ahref, to research relevant keywords for a target niche. 
For instance, if you offer desserts, you have to extract high-ranking keywords regarding desserts, and you can easily get the content ideas that are useful. 
At the same time, by carrying out keyword research, you can easily get many unique ideas for brainstorming and developing engaging content for your customers that organically transfers customers to your page.
So whenever a customer writes any keyword such as "best dessert near me,"  "quick service restaurant near me,"  "online restaurant," or "food delivery restaurant," your business will automatically appear on search engine results pages.
Creating Content
Following a keyword search to develop an appealing content creation strategy, the next step is to create a flowchart or website map in which you will list all of the details that you will include.
As for creating content for your restaurant website, you need content such as a digital menu, blogs, an attractive home page for online ordering, and a location page displaying your contact and outlet information that is specifically for customers. 
It is important to write titles, content lengths, and styles that precisely adhere to SEO standards. 
The internet is a source of data and information needed to create content for multiple platforms (including websites, blogs, and social media accounts). The information found on legitimate websites, journals, etc. is the best and most trustworthy source. 
However, make use of the websites of our competitors and all other websites that have ideal organic traffic and a good health score. 
Read
How Will Mobile Commerce Trends Rule the Retail Sector in the Next Few Years?
How To Improve Your Digital Marketing Skills?
Developing Website
Website development is the most important thing that you must retain if you want to establish your restaurant's presence online. Having a website and mobile application is now as important as owning property or having a good restaurant infrastructure. 
For successful website development, you need to delegate work to specific people who will take care of website development, optimization, content creation, graphic design, visual art, and many other things. 
One of the most important things to remember is that the content on your website must be original and unique, while also retaining unique marketable characteristics that enhance your company's reputation and marketing. 
Establish Social Media Presence
After all this, you must establish a strong presence on social media and for that  you have to be more active on all the sites that your target audience use such as Facebook, Instagram, Twitter, and LinkedIn.
When you have a social media presence, it automatically develops your business relations with customers on a personal level, and if the content is engaging, they really like to see it. 
You have to create content calendars for marketing as well, and the most important point to consider is sticking to that calendar. The secret to a successful social media presence is honesty, uniqueness, and consistency. 
You must provide information to your audience that is relevant and visually appealing, and you also have to be really honest with your customers. Don't copy and paste content; create your own content with uniqueness. 
Whatever, content you generate just be unique, such as the overall theme must be matches exactly with your content, don't post everyday but at least twice or thrice in a week
Read
6 Key Retail Industry Technology Tools You Might Not Aware With
Start Marketing 
Following the creation of content, the development of a website, and the completion of your social media presence, the next step requires you to begin marketing and increasing customer engagement. 
With regard to the audience, there are different individuals with unique traits. Some people grasp things immediately, while others take hours, therefore, it is important to utilize different types of content such as verbal, visual, etc in order to teach the non-technical audience,
Similarly, CRM tools can be used to engage customers with your content, and there are many software programs, such as point-of-sale software, that automate overall restaurant operations while retaining marketing and tool functionality that engage audiences. 
Why Is Content Creation And Marketing Important For Restaurants ?
Content creation and marketing are really vital for your business's digital presence. If you want your restaurant to survive in this competitive world, then your digital marketing skills and digital presence must be as strong as the taste of your food. Both are important equally. 
Nowadays, online content is the most important thing, and content creation includes blogs, articles, photos, videos, and anything else relevant that grabs customer attention and triggers customer interest in your service. 
Being a restaurateur, your biggest aim is to attain and then retain customers so that they repeatedly shop from you and you enjoy the customer loyalty with great rewards. That is why it is really important to utilize content marketing and creation in an ideal way.
Read
Innovative Restaurant Customer Service Techniques To Win Customers Over
Affordable Strategies That Guarantee High Customer Retention To Your Café
Write a Comment
0 Comments