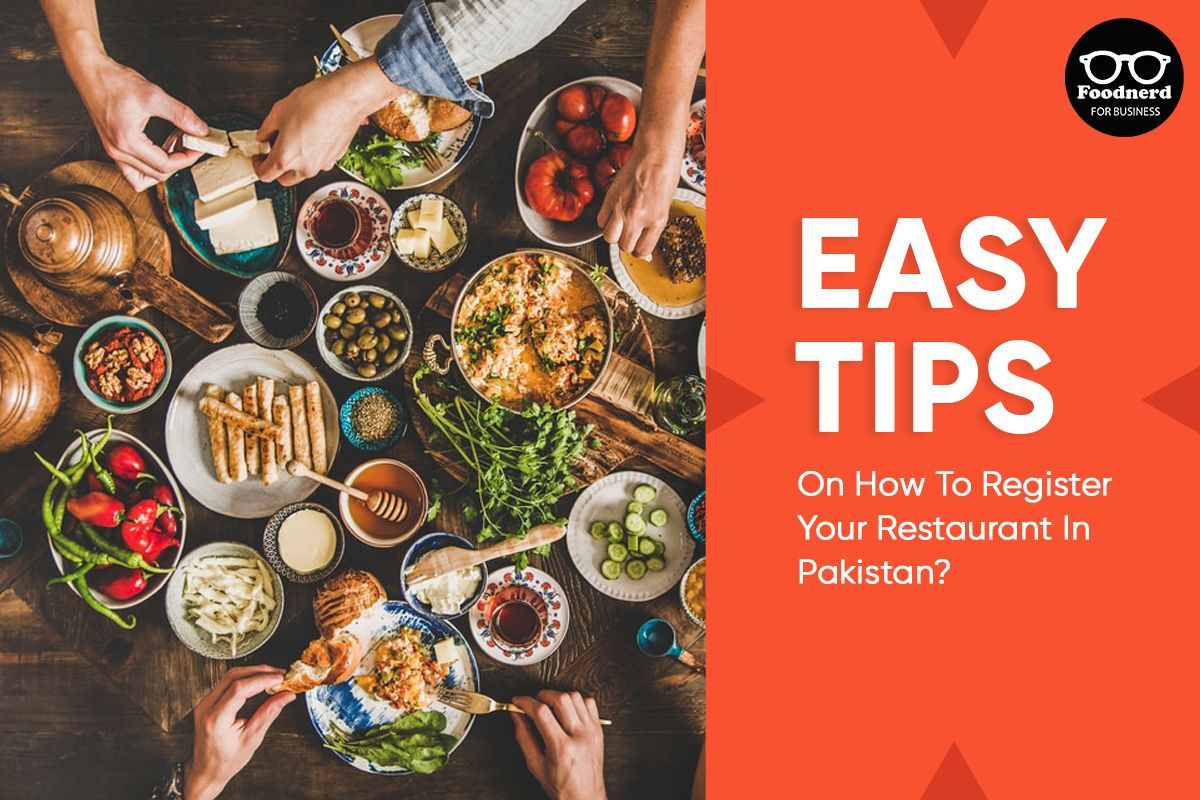 Nubaira Ahmer khan"

2022/12/13

0 Comments

0 Likes
Starting a restaurant business is a very interesting thing to do. A restaurant startup is a very versatile business idea because there are many types of restaurants that exist, leaving many choices to select and start this business. 
The restaurants in Pakistan are recognized on the basis of three standards: ambiance, food quality, and authenticity. The ambiance and food quality are the motivational forces that provoke the customers to visit and elevate profit. 
However, the authenticity or authorization of a restaurant is really important for the continuous operation of restaurant operations with proper legalization and licensing. The food authority rules in Pakistan are highly strict, which is why all restaurants in Pakistan need licenses and verification.    
If you are How do you register your restaurant in Pakistan? Or how do you register your restaurant name? Then continue reading because we have highlighted significant information regarding Pakistan's restaurant registration process. 
Read 
How To Start Cash And Carry Business In Pakistan?
How to Start A Restaurant in Pakistan?
Starting a restaurant business in Pakistan requires only motivation and consistency; if you have full determination, you are halfway there. Once you have decided to start a restaurant in Pakistan, the next step is to think about the cost required to open it. 
For a detailed guide, read "How much it costs to open a restaurant in Pakistan" in order to know how you have to proceed further. 
In general, starting a restaurant in Pakistan required  money, a proper location (whether online or physical), an authentic license (depending on the city you intend to open in), and a good reputation. If it is in the capital of Pakistan, then you need to connect with license verification in Islamabad. 
Similarly, there are many other license verification authorities in Pakistan depending upon the location, such as Punjab license verification, KPK license verification, Sindh license verification, and many more. It is to be noted that the Punjab Food Authority rules are very restrictive in Pakistan. 
After registration, the construction and renovation of a restaurant are required, and if you have an online restaurant presence, you have to make it to the top for ranking and on Google's search engine. The next thing in How to start a restaurant in Pakistan is restaurant marketing. 
Well, there are the latest and most interesting methods for marketing restaurants, and the top one is digital marketing or social media marketing. Moreover, the content creation is very important that matters for restaurant presence and marketing 
Read : use of content marketing and content creation for restaurant success
After restaurant marketing, the next thing to consider is whether to opt for the top restaurant management solution or invest in restaurant point of sale software, which is time-consuming. When all these requirements are done, then you are good to go and move your attention towards food. 
The most important thing to remember is that you should never compromise on the quality or taste of your food or beverages because customers are more educated now and will stop buying from you if you don't deliver the best results. 
Read 
How To Grow Your Restaurants Online Food Delivery Sales And Customers?
Innovative Restaurant Customer Service Techniques To Win Customers Over
How To Register Your Restaurant In Pakistan?
If you are operating a food business in Pakistan and worried about how to register your business in Pakistan, Then relax. Although restaurant registration is a very complicated process, it is the same for all types of food businesses.
So hotel registration in Pakistan or registering a food company in Pakistan requires you to get a license from the respective authority, which includes the IPO (Intellectual Property Organization of Pakistan) or the FSA (Food Safety Authority).
However, different cities in Pakistan have their own separate restaurant registration portals, such as: 
For license verification in Karachi or online restaurant registration in Karachi or Sindh, you have to visit their page. For your ease, just click on the link https://www.sindhdts.gos.pk/RestaurantsRegistration to easily be redirected to their website. 
If you are looking for How to register a food company in pakistan especially in khyber Pakhtoon khuwan then click on the link to get yourself registered, get license or find the relevant details https://kpfsa.gov.pk/license.php 
For restaurant registration or licensing, click on the link of the Punjab Food Authority website, i.e., https://cell.pfa.gop.pk/, and easily apply for a restaurant license, restaurant registration, license tracking, and many more. 
It is a complete webpage that you can utilize for multiple purposes such as punjab food authority complaint portal, punjab food authority helpline etc. 
Note: All the relevant details regarding how to register your restaurant in Pakistan are available on these websites. 
At the same time, the restaurant license in Pakistan is granted for one year and is renewable with a proper fee. 
Read 
Foodnerd, FBR Integrated Restaurant POS Software
What Is A Point of Sale (POS) Software Technology?
Restaurant Non- Registered  and Non-Licenced Penalties in Pakistan 
The restaurant owners are required to have their license registered at all costs, and at the same time, they must have an authentic license for it. If they don't have any of these things, they will be penalized heavily, such as with imprisonment for three days to one year or a heavy fine ranging from 10,000 PKR to 500,000 PKR. 
Must-have things for restaurateurs or restaurant owners:
Health Certificate

Medical Certificate of staff and owner

Proper Hygiene

Comfortable Environment 

Infrastructure 

Registered License 
Read 
Affordable Strategies That Guarantee High Customer Retention To Your Café
How New Technology Trends in Restaurants That Are Saving Money?
Write a Comment
0 Comments