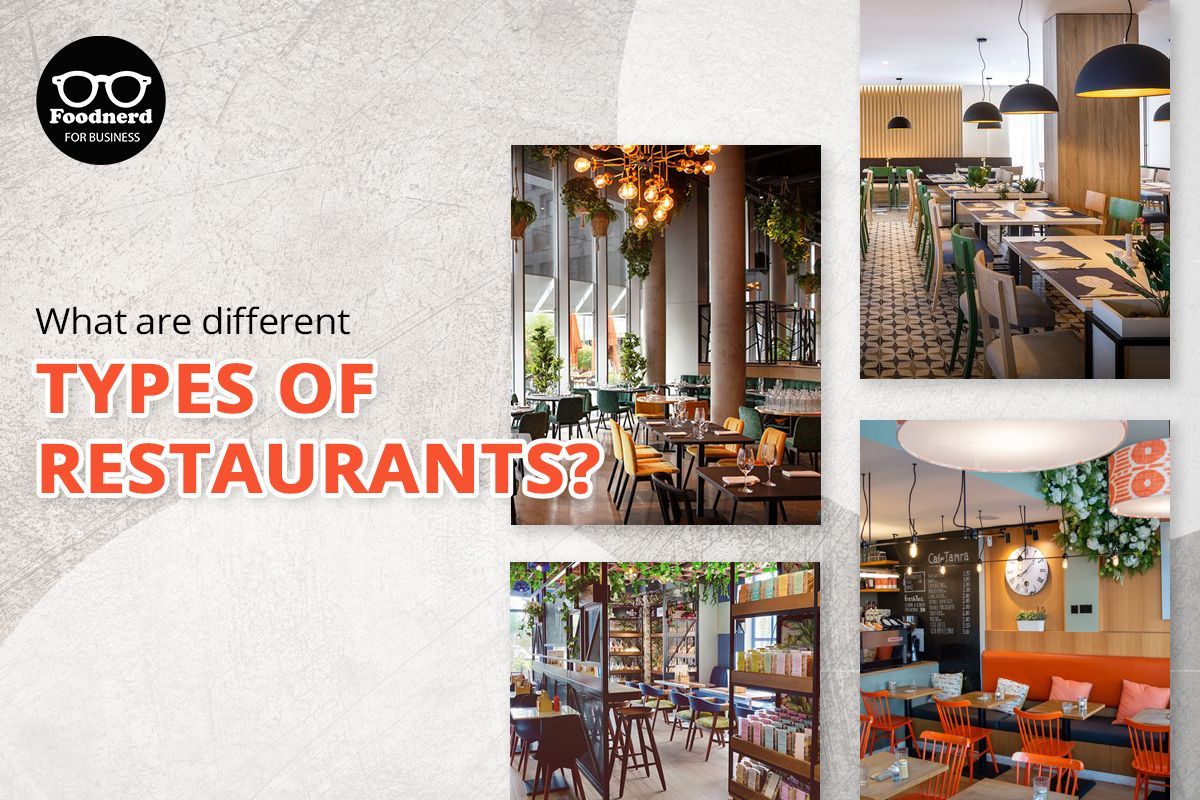 Nubaira Ahmer khan"

2022/11/07

0 Comments

0 Likes
When the discussion regarding restaurants starts, it never ends because the restaurant industry is so big and diverse that we always have something to discuss, including different types of restaurants, the cost to open a restaurant, the latest restaurant technology, and many more.
You probably love to hang out with your friends and family and enjoy eating out. Also, you are always on the hunt to find nice restaurants. But have you ever thought about different types of restaurants serving food? Well, you see many restaurants but don't know the types. 
In addition, if you're thinking about starting your own restaurant and wondering how much it costs to open a restaurant, If yes, then you have to first determine the type of restaurant you are going to open and then move further.
Prior to performing a cost and benefit analysis for restaurant opening and closing, you must first decide what kind of restaurant you want to open. Here we have answered your question about the different types of restaurants. Continue reading it to gain some knowledge. 
What Are The Different Types Of Restaurants?
There are many high-end restaurants that are earning huge profits based on their specific type, target audience, and the types of food they serve. If you have determined these three important things, you'll be a giant player in the restaurant industry. 
Below we have highlighted the different types of restaurants; read it thoroughly, understand it, and then decide what type of restaurant you'll choose to open. 
Buffet Restaurant
The buffet restaurant is a large-scale restaurant that offers the option of eating all you can at once. They have specific charges set for a person, and after making a reservation, customers visit the buffet and enjoy a detailed menu laid out on a row of tables. 
The service at a buffet restaurant is based on self-service; the customers just go and fill up their plates themselves and come back to their specific table. Also, they have a specific time when they are openly allowed to eat and refill their plates. 
Based on the concept of buffet restaurants, there are different types of cuisine serving options, such as hi-tea and brunch. Throughout the day, these buffet restaurants offer multiple options; on occasion, such as an iftar buffet and a sehar buffet.
Read 
5 Quick Ways To Improve Customer Services
Top Delectable Dessert Spots in Islamabad You Must Visit
Fine Dining Restaurant
A fine dining restaurant is a specific type of restaurant that provides the best dining experience with excellent cuisine and a perfect atmosphere all in one place. They are an elite- style restaurant with highly sophisticated guests. 
At fine dining restaurants, the meal is served in more or less five courses while guests follow proper dining etiquette while eating. The prices at fine dine restaurants are somewhat expensive but they have highly trained staff, including master chefs, culinary professionals etc.
One amazing thing about fine dining restaurants is that here you may find unique food served with creativity; these restaurants also remain top of the line in their service, celebrate all occasions, and incorporate seasonal items in their menus.
Read 
Why Restaurants Fail; How To Make Your Restaurant Touch The Sky?
How POS Will Help Restaurants Offset Labor Shortages
Restaurants On Wheel
The food van, food truck, and food cart are the most significant categories of restaurants that are very common nowadays. The best thing about them is that they serve food quickly, to pedestrians on the street or in any nearby place, and earn huge revenue with that. 
The service at restaurants on wheels is usually quick, and most of the food truck, food cart, or food van owners usually provide seating arrangements as well. The prices are highly reasonable. It is an outdoor restaurant that can be opened without specific property. 
The menu on the restaurant on wheels is extremely adaptable. Some serve just desi snacks, including fries, samosas, kachoris, chaat, and gol gappay, while some food carts or food trucks serve fast food, Pan Asian cuisine, Lebanese or Italian food, and English-style cuisine. 
Read
Tea Stalls And Lahore Chai Culture In Pakistan
What Are The Most Popular Restaurants To Shortlist During Visit To Islamabad?
Cafe
The cafe is a small-scale restaurant type that usually serves hot drinks, including different types of coffee, hot chocolate milk, and many other types of teas and flavored milks. The cafes are usually themed in English style. 
It is the ideal place for people who love cozy places and prefer to work or read a good book somewhere outside their comfort zone. The service style at cafes is usually limited or hybrid, as customers directly order their things while seated, and their order is delivered to their table.
The small themed cafe with the best cup of tea or different varieties of coffee gives people an only motivation to visit and enjoy their meal time or friends time over a cup of coffee with different types of cakes or any bakery item.
Read 
Everything You Should Know About Onions
Soft & Chewy Granola Bars; New Trend, New Addiction
Cafeteria 
The cafeteria is usually found in the offices, educational institutions, and hostels. They serve a versatile meal in a limited time and comfy place. It is a great option to open because they reap huge profits.
The cafeteria typically has a dining area with a counter system where patrons line up, fill their plates when it's their turn, and then proceed to the table. In a different arrangement, customers place their orders at one counter and receive their orders from a different one. 
The majority of cafeteria service is self-service or hybrid, where the order is delivered to the table by cafe staff. However, cafeterias' main concerns are quality and taste because they cater to a specific clientele, such as students or employees, and they can't afford to lose even one patron. 
Read
Storage Tips To Keep Veggies Fresh
School-Going Kids Lunchbox Idea For Mothers
Ghost Restaurant
The "ghost restaurant" is the most popular and trending restaurant category that has gained much recognition and popularity since COVID-19 was at its peak. At that time, state governments all around the world ordered a forced closure.
Thus, from there, the concept of the ghost restaurant was established for delivery purposes. The prices at ghost restaurants vary depending on the order quantity. While the menu items at ghost restaurants are also very versatile, depending on the restaurant and what they are selling,
The service type at ghost restaurants depends on a quick service and delivery model, as there is no seating arrangement for that; you only need a kitchen with proper equipment. This model is really suitable for home chefs as well.
Read
Kitchen Display System: How Does a Kitchen Display System Work?
Automated Table Reservation System
Destination Restaurant 
It is the type of restaurant that is set up in an attractive location and grabs customers' attention due to the attractive views. It is a very old type of restaurant that was established with the purpose of providing a comfortable place to visit and take rest with some good food. 
The destination restaurants are ideal for customers who prefer good sit-down restaurants after a long journey. Also, there are many destination restaurants that are open near beautiful and attractive nature views that motivate customers to visit out of town and enjoy beautiful views.
The destination restaurants enjoy a huge reputation, and they have a large fan base all around the world as people visit them from faraway places and then share their experience with friends and family. 
Read
How To Deliver Excellent Customer Service At Your Restaurant
How to Choose the Best POS System for Your Small Business
Dinner Restaurant 
The dinner restaurant is a type of restaurant that is mostly popular in the United States of America, and it is typically the most popular type of restaurant. Dinner restaurants usually have table service and bar stools at the center. 
The dinner restaurant usually serves fast food, including burgers, fast food and breakfast sandwiches, paninis, and all the other handy and quick foods. While the service style usually involves both, i.e., direct service or through a waitstaff.
At dinner restaurants, the timings are hectic as they are open 24 hours a day; therefore, it is very difficult to maintain operations, as it demands reliable staff, a good scheduling system, and control of inventory, but a good point of sale software will handle this tension easily. 
Read
Data Security And Recovery In POS
How Software Technologies Are Evolving The Business
Write a Comment
0 Comments