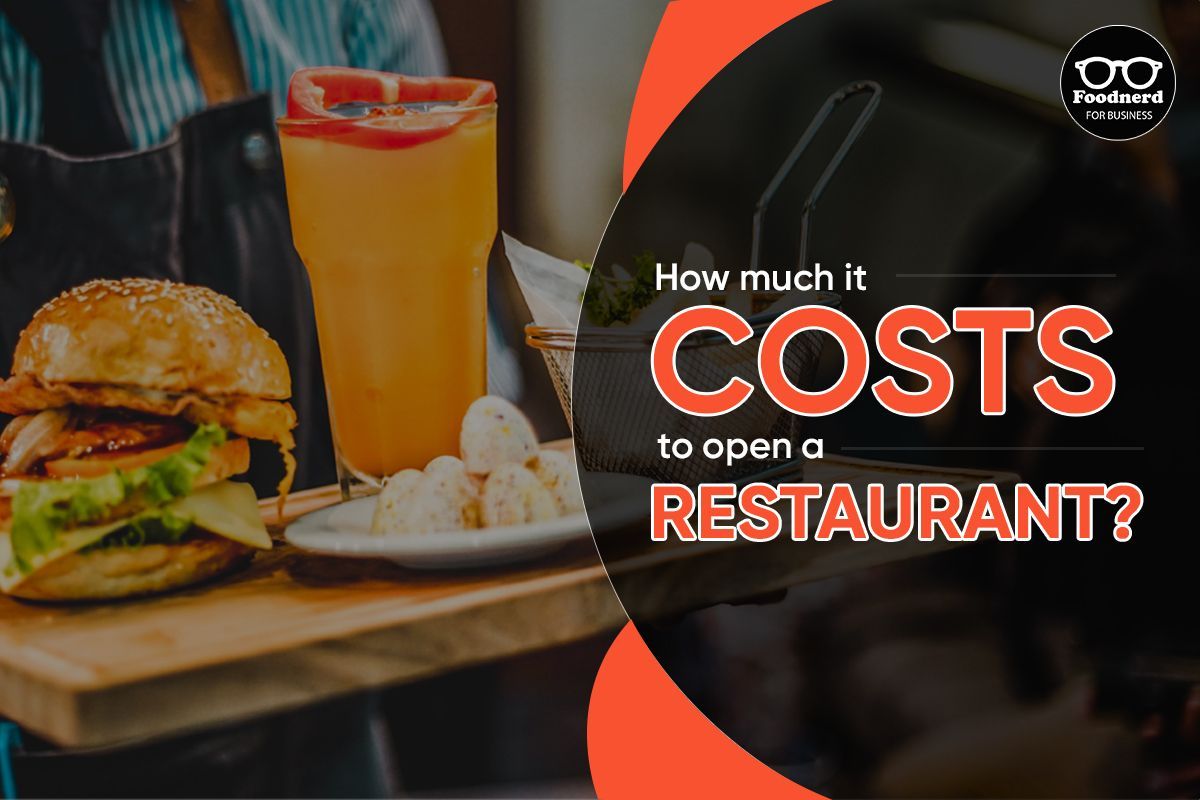 Nubaira Ahmer khan"

2022/10/31

0 Comments

0 Likes
Are you dreaming of having your own restaurant or food service business? Well, if yes, then go ahead and don't stop yourself from doing it. Don't let the restaurant's opening cost hinder your dream just remember with minor investment you'll reap major rewards  
Opening a restaurant is a very adventurous thing. Feeding someone good food with great ambiance is the beauty of the restaurant business. If you are thinking about how to start a restaurant business and you have zero knowledge then don't worry you are at the right place. 
In this blog we will discuss how much it costs to open a restaurant, what the important requirements are that you need to consider when you open a restaurant. Continue reading it to gain more knowledge about restaurant start up.
Read 
How To Deliver Excellent Customer Service At Your Restaurant
How New Technology Trends in Restaurants That Are Saving Money?
Is It A Good Idea To Start A Restaurant Business?
Starting a business is generally a good idea. Instead of working under someone, you become the CEO of your own business. It generates good revenue not only for you but also for others. Also, you also generate job opportunities for your fellows as well. 
However, among multiple business start up ideas, one of the best ideas that need to be considered is opening a restaurant business. It is not only an interesting one but it promises a huge return on investment.  
So, if you want to be a restaurateur, you can start from scratch, whether it's with a food cart, a food van, a food truck, or from your own home; all you need to do is keep dreaming and moving forward because it is the cheapest business to start. 
The most important thing about the restaurant business is that it doesn't cost as much as compared to other businesses because opening a restaurant comes with a lot of varieties. As there are different types of restaurants.
Such as food on vehicles, quick service restaurants, full service restaurants, fast food chains, fine dining restaurants, cafes or coffee shops, ghost restaurants and many more. So you can have a variety of choices that you can choose according to your respective budget.  
Read 
How To Identify And Prevent Fraud In Your Business
Tips For Merchants To Lower Their Stress Levels
How Much Does It Cost To Open A Restaurant Business?
The cost of opening a restaurant varies depending on the size and type of restaurant you are interested in opening. If you want to open a restaurant or café on a very small scale, then it will cost you a minimum of 10-15 million  for a small scale restaurant  and a maximum of 2-4 crore in Pakistani currency for a large scale fine dining restaurant. 
However, in addition to the price, there are a number of other factors that should be taken into account when creating a business plan for the proper start-up of a restaurant. These factors are discussed below.  
Read 
The Benefits And Drawbacks Of Shopping In-Store
How To Grow Your Restaurants Online Food Delivery Sales And Customers?
Finding An Area
The restaurant startup cost begins with the down payment, which you have to give for buying a specific place for your restaurant, or a food cart or food truck. The choice depends on you, but the initial cost relies on buying a place or taking a restaurant place on rent. 
The location matters a lot. At the same time, the price rates in commercial areas are high, but it is a one-time investment. It is better to buy a place so that it will be your property and you can easily renovate it accordingly. 
One of the most important factors is the target market. If you plan to open a fast food restaurant,  it is better to open it near schools, offices, or universities, while if you have a five-star hotel plan, then buy it in a posh area. For food carts, the market area is always best. 
Read 
Innovative Restaurant Customer Service Techniques To Win Customers Over
Affordable Strategies That Guarantee High Customer Retention To Your Café
Restaurant Opening Permit Or License 
In order to open a restaurant, you must obtain a restaurant opening permit or license before moving ahead. Now, if you are thinking about how to get a restaurant registration permit or license, just hire a legal adviser and he/she will handle it all. 
From drafting the contract to registering your restaurant, the legal advisor will manage everything in accordance with the rules and regulations. This will help you in the long term as well, when you'll enjoy legal revenues and profit. 
The restaurant's registration and license procedures will be completed simultaneously. However, the restaurant license needs to be renewed on a yearly basis, depending upon the duration granted by the government. 
Read 
The Top Priorities of Restaurant Customers
Kitchen Display System: How Does a Kitchen Display System Work?
Construction Or Renovation 
The construction of a new restaurant building or renovation of an existing restaurant structure is also an important point in any discussion on how much it costs to open a fast food restaurant or coffee shop. 
The restaurant's interior, captivating environment, and luxury matter a lot to customers. When you have a very cozy and comfortable place, customers prefer to visit your restaurant, spend quality time at your place, and become loyal customers. 
The most important thing that adds a hundred more points of customer satisfaction to your palace is your attractive restaurant color scheme and theme. It is the most attractive part, and it leaves a permanent mark of your restaurant in your customers' hearts.
Read 
5 Quick Ways To Find The Best POS For Your Business
5 Necessary Point Of Sale Hardware Components
Kitchen Equipment 
The cost of buying proper kitchen equipment must be included in your plan, and the average cost of buying kitchen equipment depends on the brand. But it is better to buy the best quality kitchen equipment because it is a one-time investment.
The basic kitchen equipment includes an oven, dishwasher, mixer, refrigerator, stand mixer, juicer, blender, stove, and dishes set, plates, spoons, mugs, glasses, etc., towels, gloves, aprons, etc. It is recommended to either purchase all equipment at once or take it on lease.
So the basic utilities also include all this equipment that must be in your kitchen. However, you must not overspend on purchasing equipment because it is not healthy to spend a lot on kitchen utilities at a very early stage.   
Read 
The Usage Of Artificial Intelligence In Manufacturing Industries
How Technology Is Reshaping The Food And Beverage Industry
Restaurant Interior
When calculating the restaurant's opening costs, it's important to remember the furniture, which includes the tables, chairs, barstools, lighting, and unifying design elements. It is also important to use outdoor space for a sitting area. 
Also, whether you want English-style sophisticated furniture or traditional-style furniture, the restaurant interior furniture is entirely up to you. But always remember to buy limited furniture that consumes space in your restaurant in an elegant way.
Also, you can get a marketing edge when you provide some unique experiences to guests, such as a play area for the kids or a library area for guests who are waiting so they can enjoy books. That is why you should always focus on the architecture of your restaurant. 
Read 
Delicious Sweet Desserts You May Try This Eid
5 Most Popular Saudi Rice Dishes
Restaurant Marketing
It is the major aspect for restaurants to consider because, without marketing and promotions, their restaurant can not be introduced to a wider audience. Well, the recent marketing trends include digital marketing.
 Gone are the days when entrepreneurs hired expensive marketing agencies or spent billions of dollars just on marketing and achieved nothing in the end. Now, social media marketing has replaced everything.
Thus, after establishing your restaurant, it is better to advertise it to a wider audience using digital marketing. The latest marketing trends are cheaper and promise the highest customer response in a limited time and budget.
Read 
Recipe & Ingredients Management With POS
How POS Will Help Restaurants Offset Labor Shortages
Utilizing Latest Technology In Restaurant 
The latest technology in restaurants reduces a lot of time on manual operations and improves the efficiency of restaurants. Therefore, you must make an investment in POS software technology if you want to manage your restaurant business better and quickly with big profits.
Restaurant point of sale software is the best technology and it is an all-in-one software that efficiently manages restaurants, customers, inventories, suppliers, tables, and many more. It basically automates the overall restaurant business.
Therefore, why manage your restaurant operations manually when the digital trends demand usage of the latest technology? Many restaurants also focus on other technologies such as self-service kiosks and digital ticketing, so do good research and utilize the latest technology. 
Read 
7 Compelling Reasons To Use A POS System
Why Restaurants Fail; How To Make Your Restaurant Touch The Sky?
Food Expenses 
Whether you have a small restaurant or a large scale restaurant, food costs are the most important thing around which all your restaurant expenses, profits, customer loyalty, and restaurant reputation revolve. 
Therefore, planning a prior food budget plan is very important. Also, don't go directly to expensive vendors or retailers but prefer to find any supplier that provides you with food items in bulk and at reasonable prices.
Many start-ups overspend on food budgets and end up wasting them. Therefore, it is better to properly utilize food inventory. Also, last but not least, building a team of professionals and deciding their salaries are also included in the cost of the restaurant along with food expenses. 
Read 
5 Reasons Why POS Software Works Great For Medical Store
Write a Comment
0 Comments