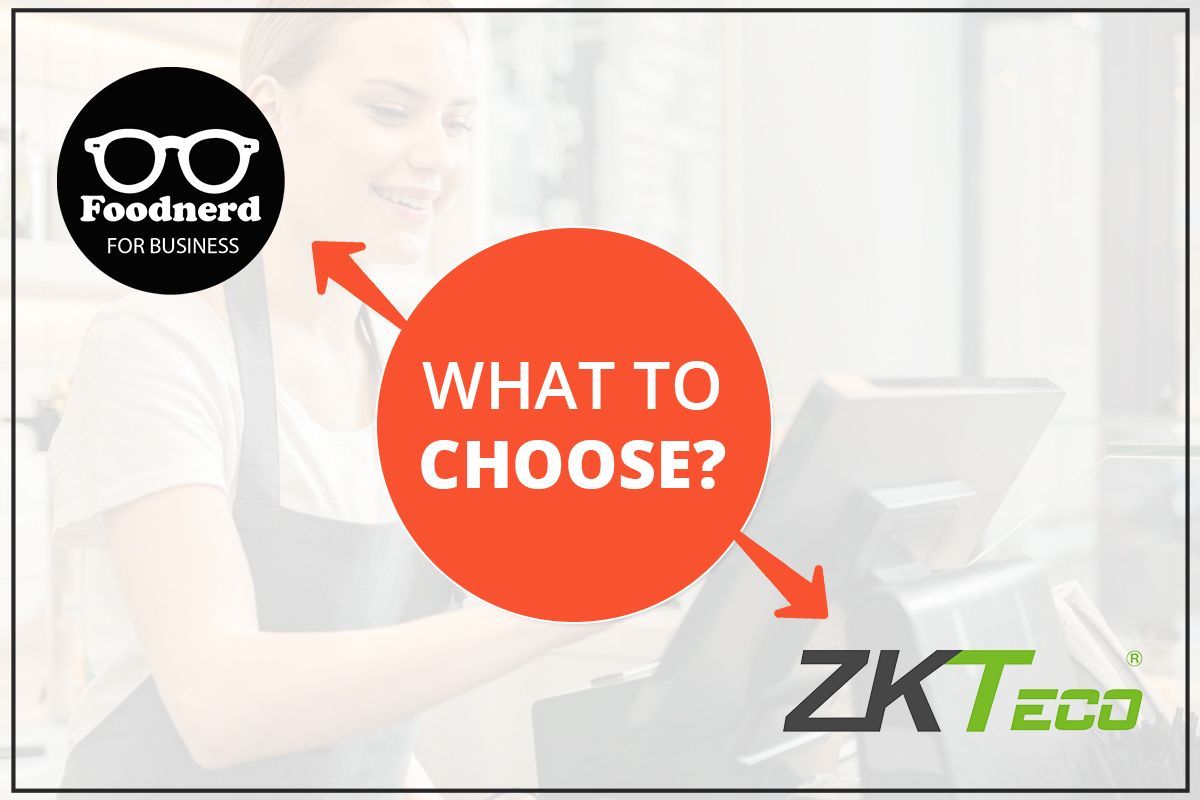 Nubaira Ahmer khan"

2023/01/25

0 Comments

0 Likes
Are you thinking about upgrading your restaurant's technology but aren't sure what solution to go with? Well, definitely, because when it comes to choosing the right solution that is worth its price and capabilities, we often get confused.
However, we have highlighted a detailed comparison between Foodnerd restaurant management technology and point of sale solution and ZKTeco POS software. 
Analyze the details thoroughly and pick the right solution that matches your needs. 
Overview Of Foodnerd POS And ZKTeco POS
The Point of Sale software is the demand of time. If you want to speed up your restaurant operations, increase efficiency, reduce errors, and keep your customers and staff satisfied, then you must get your hands on a cloud-based point of sale system for restaurants. Below we have highlighted a bit of an overview of two restaurant POS software providers. I.e. Foodnerd POS and ZKTeco POS.  
Read 
POS As An Innovation In A Time Of Certainty
Foodnerd POS
Foodnerd is cloud-based POS it is a web-based point-of-sale system that lets you process payments or manage your restaurant operations through software technology. 
The Foodnerd cloud-based POS software does not require you to buy clunky and expensive servers or expensive software that makes you buy a new version to upgrade.
Foodnerd is compatible with any hardware and provides all-in-one functionality to manage your sales, inventory, customers, restaurant kitchen, receipts, and many more through a single dashboard.
Foodnerd POS software doesn't let you be confined to one place; rather, the user is able to manage its restaurant operations remotely from anywhere and at any time of the day.
Read 
Marketing Automation Techniques To Win Customers Over Grocery Store
What Is The Use of Open Source Inventory Management Software?
ZKTeco POS
ZKTeco POS offers smart biometric POS software and hardware terminals that meet the needs of customers in managing sales, inventory, and customers. Their POS is not built on cloud-based technology. 
They do, however, sell POS hardware that is pre-installed with less-featured point-of-sale software, which is why their POS software is slow and lacking in functionality. 
Features Difference Between ZKTeco POS & Foodnerd POS
When it comes to choosing a point-of-sale solution for restaurants, it is always recommended to focus on the rich features of POS solutions. Some vendors in the market sell POS solutions, but they are not extraordinarily rich in functionalities, and they just manage basic operations. 
At the same time, with the advancement of technology, POS software is now feature-rich, provides an all-in-one solution, and manages overall business operations. Below, we have highlighted the features that ZKTeco Point of Sale software and Foodnerd Point of Sale systems for restaurants are offering. 
Foodnerd Point of Sale software is a feature-rich POS system, running from menu management to table management, kitchen management, and many more. Foodnerd POS is specifically created to meet the needs of restaurateurs. 
Foodnerd POS offers Kitchen Display System,  Recipe Management, Rider App, Inventory Management, Employee Management / HRM, Loyalty Program, Menu Scheduling, Customer Relationship Management (CRM) etc. 
With Foodnerd POS, users also get the opportunity to display their restaurant online and sell via both channels, i.e., through online means and with physical presence. Foodnerdis as ZATCA approved POS and it accepts payments through multiple gateways such as  (Stripe, PayPal, Mada, Apple Pay, & STC Pay).
ZKTeco POS is currently selling software and hardware, including Access Control System Green Label, video surveillance, smart technology, and many other products and services, which is why their POS software does not meet the requirements of a fully functional POS system a restaurant owner can consider. 
With ZKTeco POS, users can generate digital receipts, allowing them to perform tasks from a single screen. The ZKTeco POS retains customer management, table management, discounting, and gift card options as well; these features are included in Foodnerd POS also. 
Read 
How To Improve Your Digital Marketing Skills?
How Has Grocery Shopping Behavior Evolved Recently?
Pricing Difference Between Foodnerd POS & ZKTeco POS
Well, when it comes to pricing, most of the buyers focus on pricing; some compromise on quality over price and buy a solution that soon becomes a headache. That is why, instead of comparing the prices, always focus on the services and functionalities that are associated with a certain amount. 
If we see the comparison of Foodnerd POS vs. ZKPOS in terms of pricing, there is a wide difference; 
Foodnerd offers four different packages to users based on an annual subscription, i.e.,
-Standard ( SAR 1600.0/ Annually)
-One Time Payment (SAR 300.0/ Annually)
-Basic (SAR1200.0/ Annually)
-Pro (SAR 2000.0/ Annually)
At the same time, ZKPOS is selling software along with the hardware in the recent package they are offering.
Biometric Enabled Android POS (SAR 1725/-)

POS Machine with E-Invoice Software (SAR 2875/-)
The major concern here is that ZKPOS doesn't offer detailed features on POS. However, Foodnerd POS offers feature-rich restaurant POS software that is compatible with any hardware, including Android, iOS, and Windows. Users can have their own mobile devices, and the Foodnerd cloud-based POS will be easily installed on them. Thus, users do not have to buy any additional hardware, and they can enjoy unlimited features with Foodnerd based on cloud-based technology.  
Product With Worldwide Market Are Successful
The products that achieved international standards retain their special capabilities and brand reputation because they are sold worldwide. Both Foodnerdpos and ZKPOS have an international presence; ZKPOS is active in Saudi Arabia, Pakistan, and other countries, whereas Foodnerd POS is active in Oman, KSA, Dubai, Egypt, the United Kingdom, and other countries. 
Read 
Easy Tips On How To Register Your Restaurant In Pakistan?
What Are The Different Types Of Restaurants?
Which POS Software Is Better: FoodnerdPOS or ZKPOS?
Overall, both POS software retain their own royalties; therefore, users can choose based on their own needs. If you want an all-in-one restaurant management software that controls the overall operations of your restaurants located in multiple locations, you can go with the Foodnerd Point of Sale system because it is an all-in-one cloud-based technology based on advanced tools.
At the same time, if you want just a normal POS to manage your day-to-day sales, then you can consider ZKPOS. With Foodnerd POS, you'll only pay once and own your solution forever. And you can manage  more locations without paying any extra fees. ZKteco POS has to be installed separately on different devices, and you have to pay its charges on a monthly basis. 
The foodnerd POS comes with a lot of features, including table management, menu management, kitchen management, order management, and many more. It is designed specifically for the needs of restaurants. While the ZK provides overall solutions to restaurants and retailers, that is why it doesn't specifically focus on the needs of restaurants and retailers individually.
Read 
Barcode Labeling Functionality
How Software Technologies Are Evolving The Business
Write a Comment
0 Comments