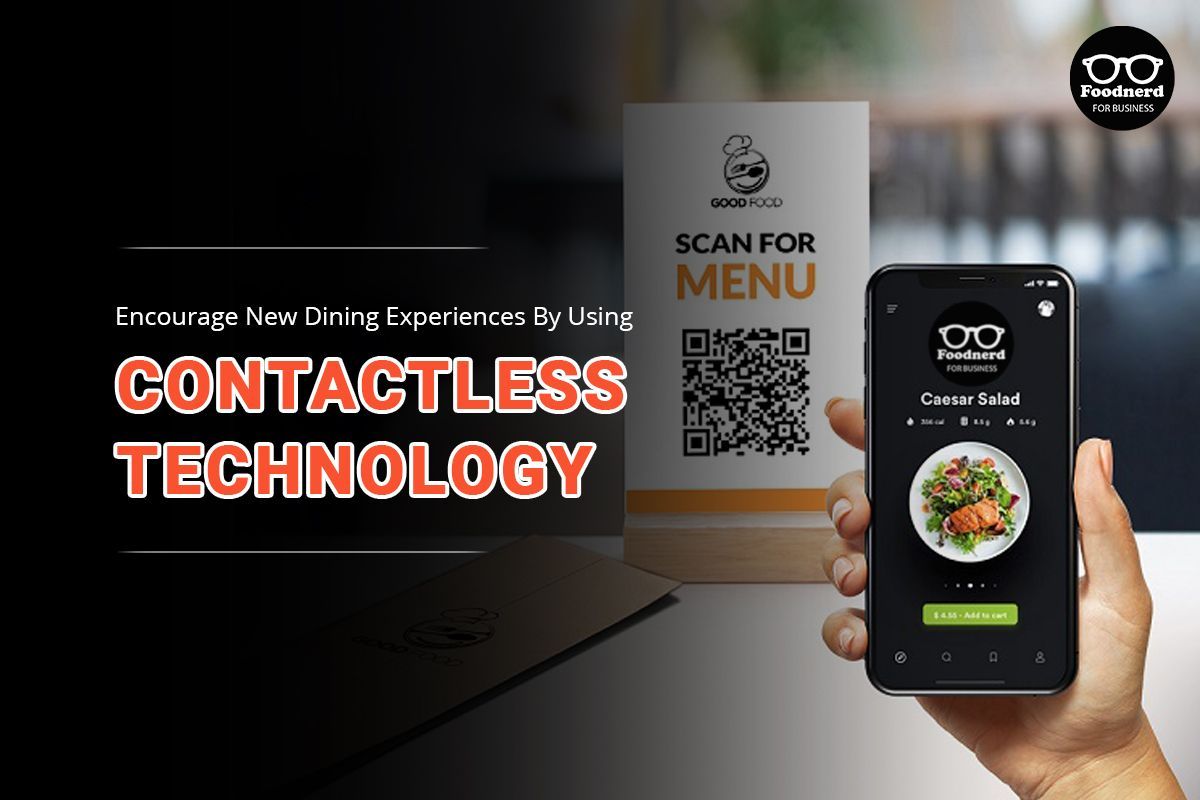 Nubaira Ahmer khan"

2023/01/10

0 Comments

0 Likes
Do you realize that the digital age has transformed every traditional way of doing things? We can now do things with technology that we used to do with our physical presence. The phenomenon of contactless ordering is widespread nowadays. 
It is evident that if the restaurant and retail industries want to continue their business in today's competitive environment, contactless ordering solutions would be the best option. Ideally, 80% of customers will prefer the contactless ordering experience over their personal experience.
If you are interested in learning more about contactless ordering at restaurants, then continue reading and let your guests order online without any interaction. 
What Is Contactless Ordering?
The term "contactless ordering" means without any direct interaction with another person while buying anything. Contactless ordering brings restaurants into the digital age. It allows customers to view menus, choose their items, and pay via digital gadgets. 
Contactless ordering is a beneficial component for restaurants and retail businesses. Customers also enjoy a seamless ordering process without having to physically handle any of the items they are ordering.
Contactless ordering saves extra costs because customers use their own devices to collect or pay for whatever items they want to purchase. It is a straightforward and fast process that can be done via smart restaurant applications, QR code ordering systems, or self-serve kiosks.
Read 
How New Technology Trends in Restaurants That Are Saving Money?
Most Successful Small Business Ideas for 2023
How Does Contactless Ordering Work For Customers? 
Contactless ordering is very easy and fast. All you need is your mobile device; then, open a scanner and scan the QR code. In any restaurant, the QR code will instantly open a digital menu from which customers can select and pay online. 
On the other hand, the kitchen staff will receive your order information on their kitchen display system, which is integrated with point-of-sale software, and start processing orders in order to fully meet all the requirements.
Once the order is prepared, the kitchen staff will either deliver the order directly to the customer or call them to pick up the order. In many advanced restaurants, there are now robots as well that serve customers at the table instead of waiters. 
Read 
How New Technology Trends in Restaurants That Are Saving Money?
3 Modern Technology Trends That Quick Service Restaurants Cannot Ignore
How To Provide Contactless Ordering In Restaurants?
If you want to provide contactless ordering experience in your restaurants, then you have to follow these five steps that are given below, and your restaurant is good to go with the contactless ordering experience:
Opt Point of Sale Software
Point-of-sale software is the most recent technology in restaurants that allows restaurateurs to automate overall business operations and manage everything from ordering to serving guests with a few clicks. 
It is the most effective technology for managers to manage multiple outlets from a single dashboard at any time and from any location. The best restaurant point-of-sale system to consider is Foodnerd's cloud-based point-of-sale software.
Read
What Is A Point of Sale (POS) Software Technology?
5 Restaurant Trends That May Not Survive in 2023
Have Online Presence 
If you are providing customers with a contactless ordering opportunity, then it is better to have an online presence because it leverages your business and increases your customer base and restaurant sales. 
Well, there are many cloud-based POS software providers that provide an online food ordering platform as well, such as Foodnerd. That not only provides POS software technology but also gives restaurateurs the opportunity to display their restaurants online as well.
Create Digital Menu 
The important requirement to set up contactless ordering and payment systems in your restaurant is that you have to create a digital menu for your restaurant that can be easily accessible on any mobile device.
The most ideal way is to have a Foodnerd Point of Sale solution in your restaurant that allows you to easily create a digital menu, manage recipes, inventory, kitchen, digital receipts, and kitchen display systems simultaneously. 
Read
How Will Mobile Commerce Trends Rule the Retail Sector in the Next Few Years?
Marketing Automation Techniques To Win Customers Over Grocery Store
Create and Display QR Codes
After creating the digital menu, the next step in setting up a contactless ordering system in the restaurant requires you to generate and prominently display QR codes in your restaurant. Make sure that any QR codes you display are easily accessible to customers. 
There are many online sites that can generate QR codes for restaurateurs; however, Foodnerd's cloud-based POS solution also generates QR codes for restaurants. When you're finished creating QR codes, save them as images, print them, and display them anywhere. 
Have  Kitchen Display System 
One last requirement that you must fulfill in order to set up contactless ordering in your restaurant is that you must have a kitchen display system in your restaurant, but more importantly, you should have to integrate your kitchen display system with POS software. 
Once you have a kitchen display system in your restaurant, the kitchen staff can easily view new orders, provide an estimated time for order preparation, view all details thoroughly, and start preparing them. Most importantly it will leads your restaurant to start operating paperless 
Read
Why Should Startups Focus on Gifting for Employee Engagement and Sustainability?
Benefits Of Contactless Ordering
With the advancement of trends, customers prefer to search for "modern restaurants near me" instead of "the best restaurant near me" because they prefer to follow advanced trends over anything else, and contactless ordering brings many benefits to restaurateurs. 
Recent Innovation 
Contactless ordering is the most recent innovation, and it is predicted that this idea will prevail and advance to its fullest. The contactless ordering has saved the restaurant's customers and staff during COVID-19. It is the best revolution in the pandemic era that proves to be beneficial.
Read
The Usage Of Artificial Intelligence In Manufacturing Industries
How Technology Is Reshaping The Food And Beverage Industry
Reduces Extra Staff
Contactless ordering saves many additional expenses. It saves the restaurant extra labor costs as the restaurant has to hire waiters to cater to their customers, but with contactless ordering, every customer serves themselves, reducing labor costs. At the same time, there are many humanoid robots with artificial intelligence that reduce the need for human labor. 
Increase Customer Experience
It also saves customers from having to wait in long lines to place their orders because they can do so with their smartphones at any time instead of waiting for waiters to come to their table to take down the menu or waiting in long lines to place an order to the restaurant's order taking representative.
Read 
How To Optimize Your Web Shop And Boost Online Sales
Customer Relationship Management (CRM) For Restaurants
Increase Restaurant Efficiency 
Contactless ordering increases the restaurant's efficiency and reduces the waiting time, which ultimately wins the customer's heart and makes them more satisfied with their fast services. It saves money, builds loyalty,  enhances efficiency in order management, and excites customers to visit the restaurant again and again. 
Best Contactless Ordering Software 
Many software companies provide the best contactless ordering software, such as Foodnerd point of sale software, which provides customers with the best contactless ordering solutions, promotes social distancing, and allows customers to order or pay online with their phones. 
Similarly, the Foodnerd point of sale software is highly secured and uses sophisticated contactless ordering technology that keeps customers' personal information confidential and protects it with multiple layers of security. Hence, there is no threat of cyber attacks, and customers can quickly pay with peace of mind. 
Foodnerd POS cloud-based technology increases sales by using intuitive cloud-based technologies and ensuring data storage. It directly integrates all the reservations and customer base to contactless orders through table management integration. 
Foodnerd is an all-in-one POS with feature-filled technology that automatically handles all the management operations and reduces extra efforts. It gives restaurateurs an online presence, and you can also create a digital menu using the Foodnerd POS app. 
Read 
How To Optimize Your Web Shop And Boost Online Sales
Customer Relationship Management (CRM) For Restaurants
Write a Comment
0 Comments